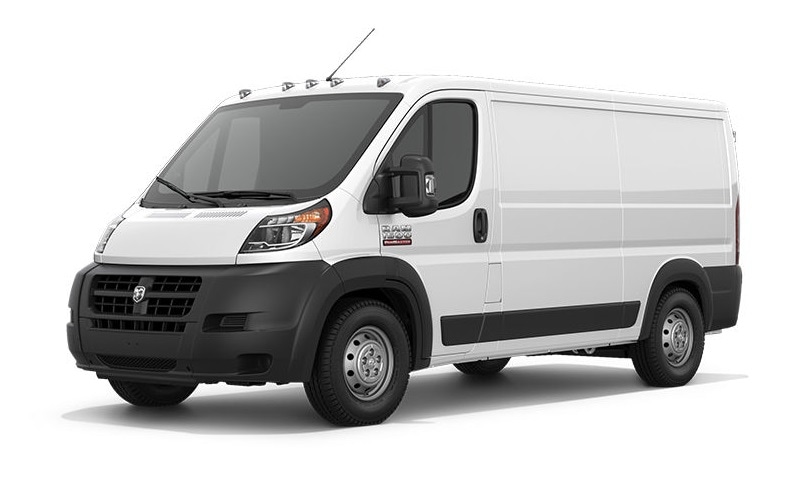 Are you ready to purchase a truck that can handle all the twists and turns that life throws at you? Perhaps a vehicle that can tow large weights and carry big items with ease? Our trusted staff is happy to help you find the Chrysler van, Dodge car, RAM truck, or Jeep® SUV that best suits your needs. But if you're in need of a heavy duty vehicle then look no further than the 2017 RAM ProMaster available now at Larry Roesch Chrysler Dodge Jeep RAM.
Features
If you need a lot of space to truck things around on a daily basis, then the 2017 RAM ProMaster cargo van may be just the vehicle you're looking for. With a powerful 3.6-liter V6 engine, this cargo van may only have seating for two, but it has 283 cubic feet of cargo capacity and the ability to tow 5,100lbs. Because winters around Chicago, IL can be brutal, your RAM cargo van comes standard with heated seats to keep your warm when winter temperatures drop. Remote keyless power doors not only make it simple to access your vehicle, but it also makes it difficult for thieves to break inside. This leaves you with more peace of mind when you need to leave any items inside your 2017 RAM ProMaster. Other convenience features include USB connection, speed-sensitive windshield wipers, rear barn door, cargo partition, wood floors, GPS navigation, Uconnect® 5.0, and rear window defroster. One of the most important parts of considering the right vehicle for you is the test-drive. We encourage you to test-drive the 2017 RAM ProMaster at Larry Roesch Chrysler Dodge Jeep RAM to not only see the available space for yourself, but to feel the comfort as well.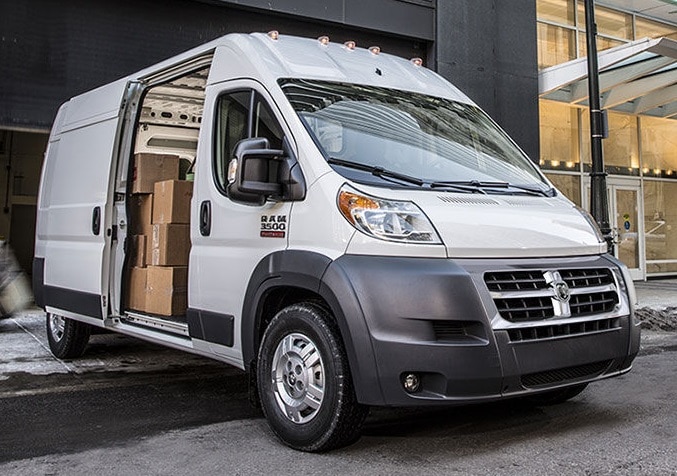 Safety
Anytime you're on the road, safety is the number one concern. This becomes even more important when you are carrying or towing a large amount of weight. With safety features including traction control, ABS brakes, brake assist, dual front side, front, and knee airbags, you can drive confidently knowing that all safety precautions have been taken to keep you comfortable and safe. Additionally, this cargo van available now at our RAM dealership has ParkView® exterior parking camera, which makes it simple to back out of a parking space and avoid any sort of collision.
Purchasing
Whether you're in the market for a new vehicle such at the new 2016 Dodge Charger or are in the market for a more affordable vehicle such as a used Jeep Grand Cherokee, Larry Roesch Chrysler Dodge Jeep RAM has a vehicle for everyone. Our dealership is located at 200 West Grand Avenue in Elmhurst, IL so it is easily accessible to those living in Naperville and Downers Grove, IL. You can also fill out our contact form to the right and let us know how we can assist with you purchasing a new 2017 RAM ProMaster 3500 van for yourself or your business. 
We hope to see you soon!