2019 Jeep Cherokee Review for Bensenville, IL
---
---
---
New 2019 Jeep Cherokee – Bring Zeal & Zest To Your Driving Experience
Larry Roesch Chrysler Dodge Jeep Ram is carrying the new 2019 Jeep Cherokee for the residents of Bensenville, IL.
If you are looking for a work vehicle to tow some heavy loads then for sure this is your vehicle. Whether you are driving off-road or traveling down the highway, the new Cherokee has some features which will bring zeal and zest to your driving experience. Keep reading to see the highlights of the new 2019 Jeep Cherokee.
---
Performance
The 2019 Jeep Cherokee has optimal performance and handling. The Cherokee has been built to handle harsh conditions. Whether it is raining or snowing, the Cherokee will get you to your destination. Towing, turning, and smooth riding is possible with these features:
2.4 Liter Tigershark MultiAir 2 Engine
180 horsepower
170 pounds feet of torque
22 mpg in the city
31 mpg on the highway
271 horsepower
239 pounds feet of torque
20 mpg in the city
29 mpg on the highway
270 horsepower
295 pounds feet of torque
23 mpg in the city
31 mpg on the highway

Terrain traction management system with snow mode
Additional electrical and body sealing
Higher intake
Tight turn and wheel flexibility
Sixteen-valve engine
Front and rear independent suspension
The 2019 Cherokee combines all of these performance features combine to provide you with a smooth ride and the power to move things effortlessly.
---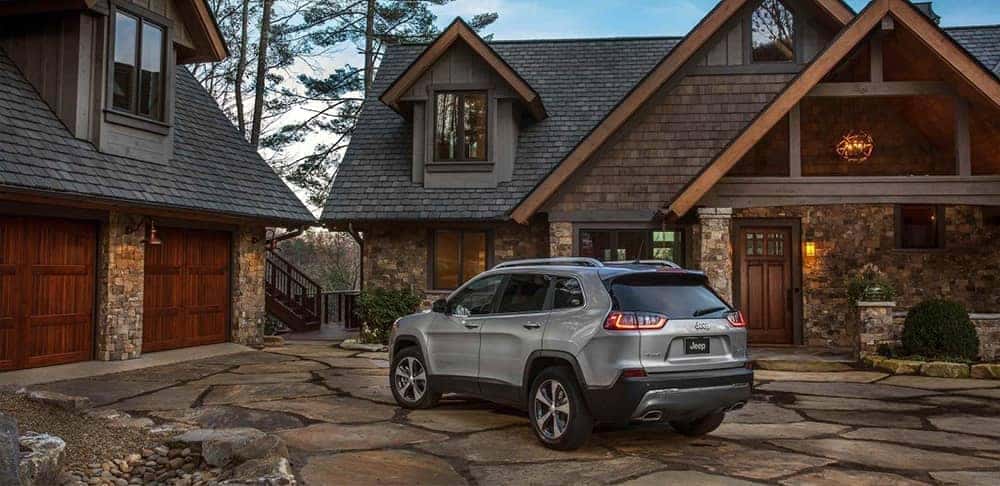 Payment Calculator
Towing / Payload Capacity
The towing and payload capacity on the 2019 Jeep Cherokee is impressive. It will tow medium to large cargo for any type of job. Towing is not an issue with the new Jeep Cherokee. The towing includes sway control so you can maneuver around corners and change lanes confidently. You can use it for towing your trailer full of gear. Some of the towing features include:
V6 can two up to 4,500 pounds
Turbo 4 can tow up to 4,000 pounds
2.4 Liter engine is capable to pull up to 2,000 pounds
Nine Speed Auto Transmission
---
Cutting Edge Technology
The New 2019 Jeep Cherokee has state of the art technology. This technology will help keep you safe on the road and prepare you for the unexpected. Some of the technological features include:
SiriusXM Guardian
Lock your vehicle doors from your smartphone
Emergency call for assistance
Roadside Assistance Call
Vehicle Finder
Blind spot monitoring
Parallel & perpendicular parking and backup assist
Automatic control of high beam headlamp
LDWS
Rain sensitive windshield wipers
Advanced brake assist
ACC with stop and go
Full speed FCW system
New side distance warning system
And more
These technology features offer safety and convenience while you enjoy your drive in the 2019 Cherokee.
---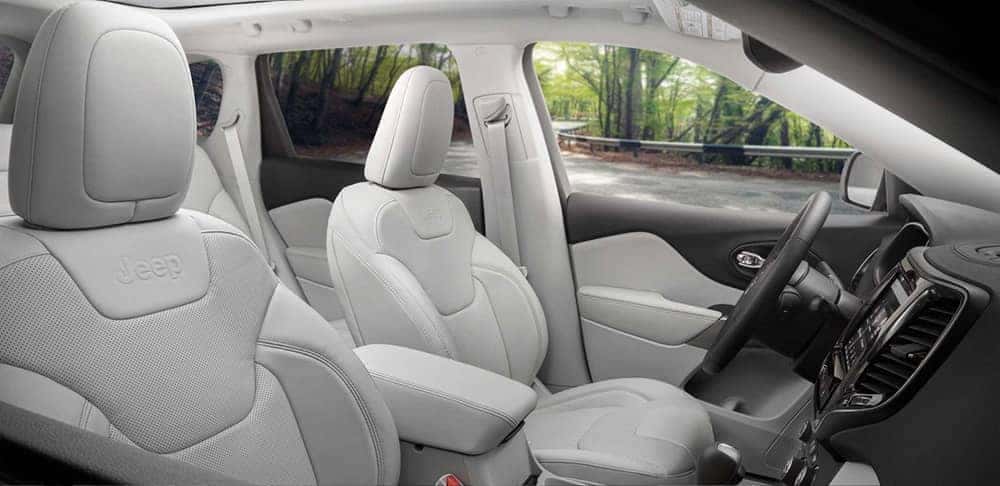 Apply For Financing
Interior
The interior of the 2019 Jeep Cherokee is designed to keep you comfortable wherever you are going. You will travel in comfort and style in the new Cherokee. If you are riding with friends, they will be comfortable too. The interior includes:
Heated front seats
Starts remotely
Engine block heater
Leather-wrapped steering wheel
Uconnect mobile app
Integrated voice command with Siri
Apple CarPlay & Android Auto Integration
Bluetooth connectivity
And More
Not only will you be riding in comfort, you will be warm during those cold winter nights. From the heated front seats to the remote start system, you will be experiencing warmth even in the coldest weather.
---
Practicality & Versatility
The New Jeep Cherokee can be used as a family or business vehicle. With its towing capacity and other cool features you will feel confident driving down the road behind the wheel of a Jeep Cherokee. These are the features to keep in mind for towing and driving off-road:
Max towing capacity of 4,500 pounds
Powerful 3.2L Pentastar V6 engine
Front and rear independent suspension
Tight turn capacity
You can be cruising down the highway or driving off-road in your new 2019 Jeep Cherokee with your payload. Its technological features such as seamless connectivity along with file and folder compartments make it your perfect mobile office. The higher intake and additional sealing allow you to off road in creeks and mud without worrying about your undercarriage. In the winter you will be warm and dry as you cruise along in your Cherokee. Your vehicle will stay on the road safely and you will have a smooth ride no matter what bumps life throws your way.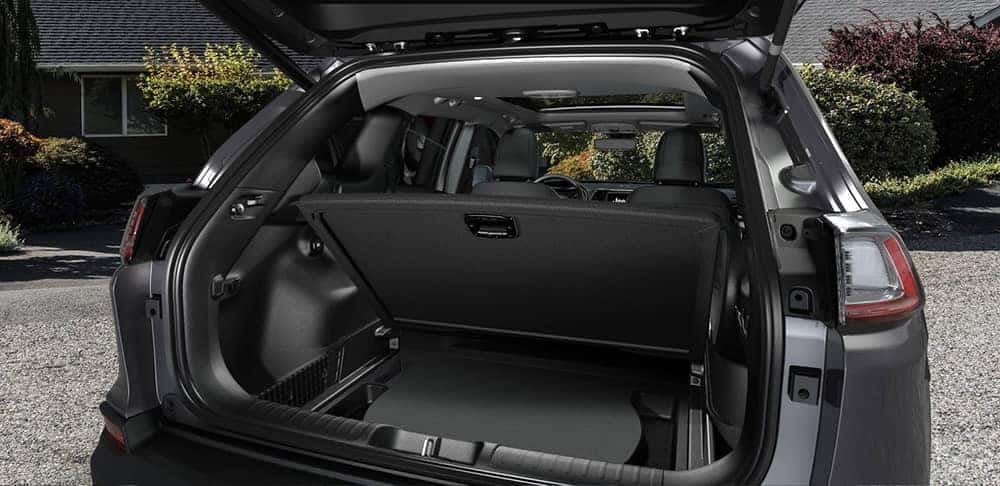 Special Offers
---
Why Buy from Us at Larry Roesch Chrysler Dodge Jeep Ram serving Bensenville, IL?
Why buy from Larry Roesch CDJR near Bensenville, IL? We have been in the business of getting our customers into cars of the highest quality and value for decades. We are a family owned business and we always take pleasure in helping our community to live better and drive the best vehicles they can. As being a customer, you are a family member and we take pride in being able to serve you. So if you are an adventurous soul looking for a high performing good looking vehicle, stop by Larry Roesch CDJR and see all the New 2019 Jeep Cherokees we have in stock for you.
---
21 Matching Vehicles Found

VIN: 1C4PJLCB5KD434856 Stock #: 17113

Our Roesch Price includes manufacturer incentives: $3,000 - 2019 Retail Consumer Cash 51CK1. Exp. 07/01/2019 ...

[ more ]

Our Roesch Price includes manufacturer incentives: $3,000 - 2019 Retail Consumer Cash 51CK1. Exp. 07/01/2019

VIN: 1C4PJLCB1KD473976 Stock #: 17324

Our Roesch Price includes manufacturer incentives: $3,000 - 2019 Retail Consumer Cash 51CK1. Exp. 07/01/2019 ...

[ more ]

Our Roesch Price includes manufacturer incentives: $3,000 - 2019 Retail Consumer Cash 51CK1. Exp. 07/01/2019

VIN: 1C4PJLCB3KD473977 Stock #: 17311

Our Roesch Price includes manufacturer incentives: $3,000 - 2019 Retail Consumer Cash 51CK1. Exp. 07/01/2019 ...

[ more ]

Our Roesch Price includes manufacturer incentives: $3,000 - 2019 Retail Consumer Cash 51CK1. Exp. 07/01/2019

VIN: 1C4PJLCB2KD444423 Stock #: 17159

Our Roesch Price includes manufacturer incentives: $3,000 - 2019 Retail Consumer Cash 51CK1. Exp. 07/01/2019 ...

[ more ]

Our Roesch Price includes manufacturer incentives: $3,000 - 2019 Retail Consumer Cash 51CK1. Exp. 07/01/2019

VIN: 1C4PJLCB3KD444155 Stock #: 17141

Our Roesch Price includes manufacturer incentives: $3,000 - 2019 Retail Consumer Cash 51CK1. Exp. 07/01/2019 ...

[ more ]

Our Roesch Price includes manufacturer incentives: $3,000 - 2019 Retail Consumer Cash 51CK1. Exp. 07/01/2019

VIN: 1C4PJLCB5KD470840 Stock #: 17323

Our Roesch Price includes manufacturer incentives: $3,000 - 2019 Retail Consumer Cash 51CK1. Exp. 07/01/2019 ...

[ more ]

Our Roesch Price includes manufacturer incentives: $3,000 - 2019 Retail Consumer Cash 51CK1. Exp. 07/01/2019

VIN: 1C4PJLCB7KD470841 Stock #: 17297

Our Roesch Price includes manufacturer incentives: $3,000 - 2019 Retail Consumer Cash 51CK1. Exp. 07/01/2019 ...

[ more ]

Our Roesch Price includes manufacturer incentives: $3,000 - 2019 Retail Consumer Cash 51CK1. Exp. 07/01/2019

VIN: 1C4PJLCX4KD429014 Stock #: 17092

Our Roesch Price includes manufacturer incentives: $3,000 - 2019 Retail Consumer Cash 51CK1. Exp. 07/01/2019 ...

[ more ]

Our Roesch Price includes manufacturer incentives: $3,000 - 2019 Retail Consumer Cash 51CK1. Exp. 07/01/2019

VIN: 1C4PJMCB2KD472163 Stock #: 17322

Our Roesch Price includes manufacturer incentives: $3,000 - 2019 Retail Consumer Cash 51CK1. Exp. 07/01/2019 ...

[ more ]

Our Roesch Price includes manufacturer incentives: $3,000 - 2019 Retail Consumer Cash 51CK1. Exp. 07/01/2019

VIN: 1C4PJMCB0KD472162 Stock #: 17300

Our Roesch Price includes manufacturer incentives: $3,000 - 2019 Retail Consumer Cash 51CK1. Exp. 07/01/2019 ...

[ more ]

Our Roesch Price includes manufacturer incentives: $3,000 - 2019 Retail Consumer Cash 51CK1. Exp. 07/01/2019

VIN: 1C4PJMCB6KD472165 Stock #: 17295

Our Roesch Price includes manufacturer incentives: $3,000 - 2019 Retail Consumer Cash 51CK1. Exp. 07/01/2019 ...

[ more ]

Our Roesch Price includes manufacturer incentives: $3,000 - 2019 Retail Consumer Cash 51CK1. Exp. 07/01/2019

VIN: 1C4PJLCX8KD429016 Stock #: 17091

Our Roesch Price includes manufacturer incentives: $3,000 - 2019 Retail Consumer Cash 51CK1. Exp. 07/01/2019 ...

[ more ]

Our Roesch Price includes manufacturer incentives: $3,000 - 2019 Retail Consumer Cash 51CK1. Exp. 07/01/2019

VIN: 1C4PJLCX2KD439783 Stock #: 17142

Our Roesch Price includes manufacturer incentives: $3,000 - 2019 Retail Consumer Cash 51CK1. Exp. 07/01/2019 ...

[ more ]

Our Roesch Price includes manufacturer incentives: $3,000 - 2019 Retail Consumer Cash 51CK1. Exp. 07/01/2019

VIN: 1C4PJLCX5KD429166 Stock #: 17089

Our Roesch Price includes manufacturer incentives: $3,000 - 2019 Retail Consumer Cash 51CK1. Exp. 07/01/2019 ...

[ more ]

Our Roesch Price includes manufacturer incentives: $3,000 - 2019 Retail Consumer Cash 51CK1. Exp. 07/01/2019

VIN: 1C4PJMLBXKD472167 Stock #: 17325

Our Roesch Price includes manufacturer incentives: $2,000 - 2019 Retail Consumer Cash 51CK1. Exp. 07/01/2019 ...

[ more ]

Our Roesch Price includes manufacturer incentives: $2,000 - 2019 Retail Consumer Cash 51CK1. Exp. 07/01/2019

VIN: 1C4PJMLB6KD455298 Stock #: 17212

Our Roesch Price includes manufacturer incentives: $2,000 - 2019 Retail Consumer Cash 51CK1. Exp. 07/01/2019 ...

[ more ]

Our Roesch Price includes manufacturer incentives: $2,000 - 2019 Retail Consumer Cash 51CK1. Exp. 07/01/2019

VIN: 1C4PJMLB6KD432460 Stock #: 17126

Our Roesch Price includes manufacturer incentives: $2,000 - 2019 Retail Consumer Cash 51CK1. Exp. 07/01/2019 ...

[ more ]