2019 Jeep Grand Cherokee Review for Glendale Heights, IL
Off-Roaders Unite! – The 2019 Jeep Grand Cherokee Review
2019 Jeep Grand Cherokee Review for Glendale Heights, IL
Leave everyone in the dust and arrive in style in your all-new 2019 Jeep Grand Cherokee, available today at Larry Roesch Chrysler Dodge Jeep Ram. This midsize SUV is expertly engineered for off-roading amid a plush, luxury interior while still serving as a practical commuter vehicle.
The 2019 Jeep Grand Cherokee continues to rank at the top of midsize SUVs as it adds the newly standard blind spot and rear cross traffic alerts.
Read on to see our review of the best features in the all-new 2019 Grand Cherokee, and don't wait for your opportunity to give this performance luxury SUV a test drive around Glendale Heights, IL!
2019 Jeep Grand Cherokee Performance
With over 12 trim options, the 2019 Grand Cherokee can be effectively customized for any driver.
---
295 to 707 horsepower engine options
Base engine 3.6L V6 perfect the commuter or family SUV
Top of the line Trackhawk supercharged 6.2L V8 engine with improved airflow
Diesel engine option with its lineup leading 22/30 mpg efficiency
Up to 645 lb-ft of torque for industry-leading 7,200lb towing capacity
Available Quadra-Trac 4×4 system provides full-time active and on-demand traction, perfect for variable Glendale Heights, IL weather
Available Launch Control acceleration coordinates engine, transmission, and suspension for optimal control
Available Selec-Track drive modes finely engineered for every driving mode: auto, sport, track, snow, and tow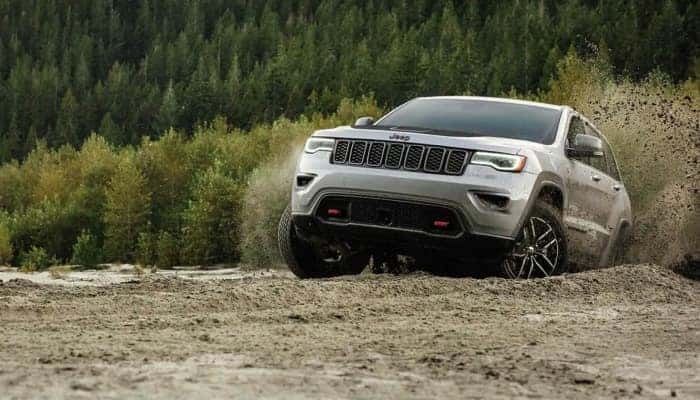 If the array of features has dazzled you, let our experienced sales team direct you to the perfect Grand Cherokee for you. We consider your budget, your lifestyle, and your personal taste to configure a custom Grand Cherokee to suit all your driving needs.
2019 Jeep Grand Cherokee Technology Features
The 2019 Jeep Grand Cherokee spares no expense on the latest technology. With standard connectivity and entertainment options, you'll be cruising in modern comfort, even with the base Laredo model. For those seeking peak performance, the 2019 Grand Cherokee offers extensive access to real-time performance data as well as recordings for later review.
---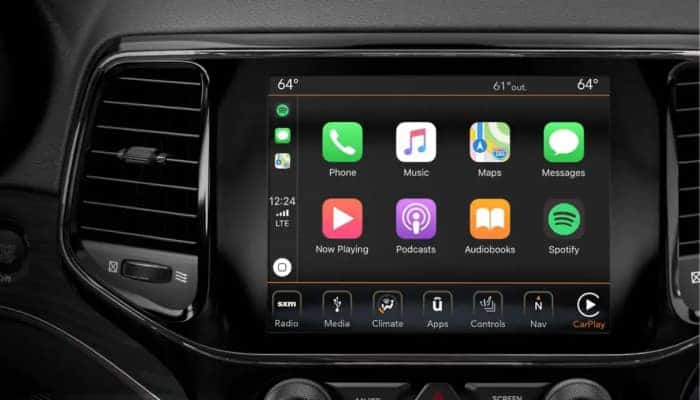 Available Performance Pages give instant reads on power, torque, g-force, fluid levels, oil temperature, pressure gauges, braking distance, 0-60, and 0-100 times, among other performance data
Standard Uconnect touchscreen serves as the central hub of information and media
Standard push-button start and keyless entry
Standard Bluetooth, USB ports, voice control, and smartphone integration
Optional 19-speaker Harman Kardon premium sound system
Optional dual-screen rear-seat entertainment perfect for families
Optional navigation, HD radio, satellite, radio, and 115-volt household outlet
Safety Features Of The 2019 Jeep Grand Cherokee
Of course, a car with this kind of power earns its top-of-the-line safety features. Newly standard for the 2019 Jeep Grand Cherokee are the rear parking sensors, backup camera, blind spot monitoring, and rear cross traffic alert. The following options can complete your safety suite:
---
Adaptive cruise control automatically slows and stops with traffic
Forward collision warning with automatic emergency braking
Lane keep assist and lane departure warnings
Parallel and perpendicular parking assistance
Adaptive headlights
Rain-sensing wipers to keep your windshield optimally clear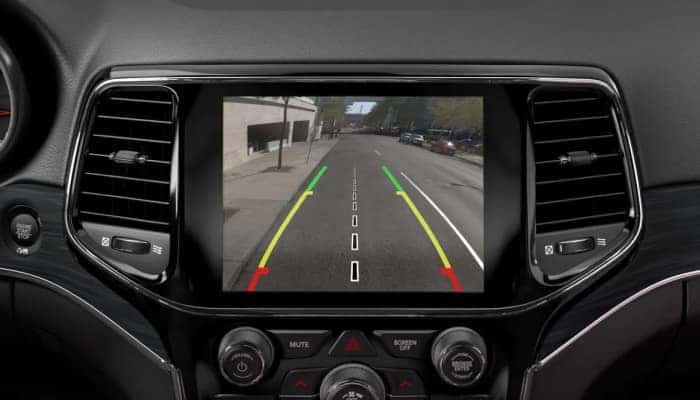 2019 Jeep Grand Cherokee Interior & Exterior
In every 2019 Jeep Grand Cherokee review, you'll see one common theme: luxury. Inside and out, this best-selling SUV is designed to combine the comfort of luxury vehicles with the performance of an off-roader. You'll look and feel stylish riding in the 2019 Grand Cherokee. A leader among two-row mid-size SUVs, the Grand Cherokee offers 36.3 cubic feet of cargo space with a total of 68.3 cubic feet with seats folded down,
---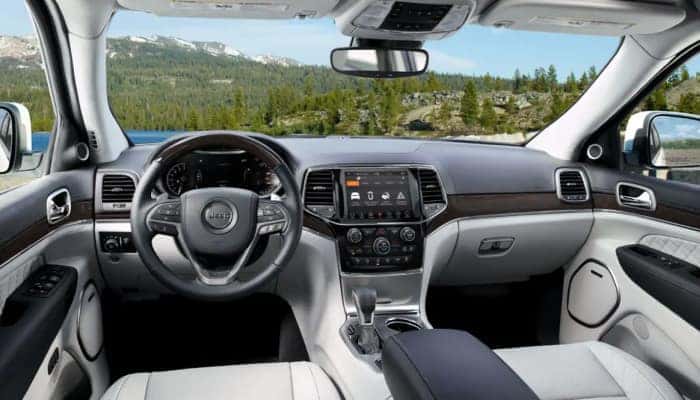 2-row mid-size SUV provides maximal legroom for front and rear passengers
Diamond-quilted leather seat option praised in 2019 Jeep Grand Cherokee reviews for their plushness
Acoustic glass dampens road noise for a quieter ride
Available foot-activated power liftgate for hands-free loading
2019 Jeep Grand Cherokee Trims Available
The 2019 Grand Cherokee offers a multitude of trim options, allowing consumers to effectively customize their vehicle. Pick and choose which features are a must-have for you, and there's sure to be a trim to fit.
---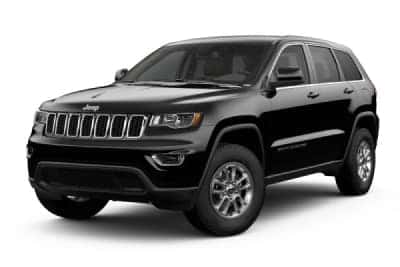 Laredo
The base model Laredo is no stranger to performance. It can tow up to 3500 lbs and features many standard luxuries.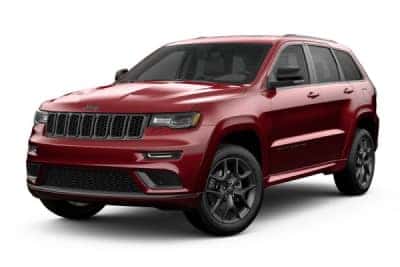 Limited
The Limited is the first step-up in available engines with an optional 5.7L Hemi V8 engine. It also includes a standard Selec-Terrain system and interior improvements like heated, leather-trimmed seating.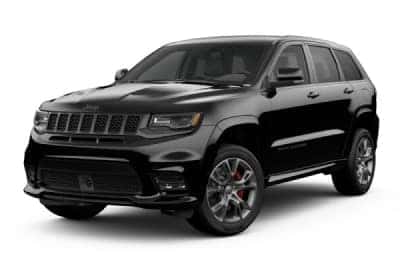 SRT
This trim offers the next engine upgrade with a standard SRT 6.4L Hemi V8 engine. This improves the standard towing capacity to 7200 lbs. With more power comes improved damping suspension and optional Brembo performance brakes.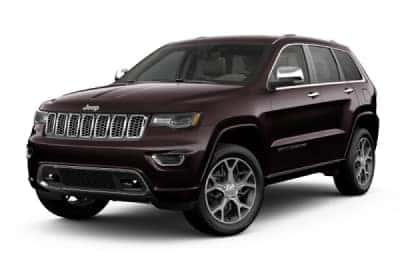 Overland
Here the Grand Cherokee sees another upgrade to 20" wheels as well as a dual-pane sunroof and available suspension upgrades.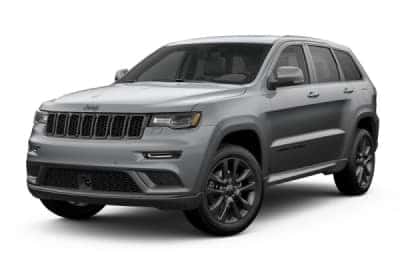 High Altitude
The High Altitude offers advanced brake assist and anti-lock heavy duty brakes among other features.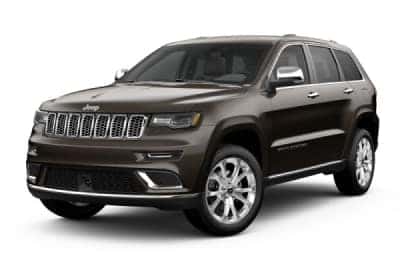 Summit
The Grand Cherokee Summit is one of few trims to offer optional skid plates as well as all-new high-end interior packages.
Why Buy From Larry Roesch CDJR Serving Glendale Heights, IL?
Car-shoppers near Glendale Heights, IL has many choices when searching for a new vehicle. At Larry Roesch CDJR, we strive to give every driver a reason to be a lifelong customer. Since 1923, we've built our reputation on our core values of friendly service, low prices, and honest expertise. Every member of the Larry Roesch team is ready to serve you with the top-rated sales, finance, and service teams in the area.
As you grow from buying your first pre-owned car to a family-friendly SUV and beyond, Larry Roesch Chrysler Dodge Jeep Ram promises to be here for you every step of the way.
42 Matching Vehicles Found

VIN: 1C4RJFAG7KC607212 Stock #: 16720

Our Roesch Price includes manufacturer incentives: $1,750 - 2019 Retail Consumer Cash 51CK1. Exp. 07/01/2019 ...

[ more ]

Our Roesch Price includes manufacturer incentives: $1,750 - 2019 Retail Consumer Cash 51CK1. Exp. 07/01/2019

VIN: 1C4RJFAG8KC709070 Stock #: 17084

Our Roesch Price includes manufacturer incentives: $1,750 - 2019 Retail Consumer Cash 51CK1. Exp. 07/01/2019 ...

[ more ]

Our Roesch Price includes manufacturer incentives: $1,750 - 2019 Retail Consumer Cash 51CK1. Exp. 07/01/2019

VIN: 1C4RJFAG2KC565029 Stock #: 16505

Our Roesch Price includes manufacturer incentives: $1,750 - 2019 Retail Consumer Cash 51CK1. Exp. 07/01/2019 ...

[ more ]

Our Roesch Price includes manufacturer incentives: $1,750 - 2019 Retail Consumer Cash 51CK1. Exp. 07/01/2019

VIN: 1C4RJFAG0KC565028 Stock #: 16533

Our Roesch Price includes manufacturer incentives: $1,750 - 2019 Retail Consumer Cash 51CK1. Exp. 07/01/2019 ...

[ more ]

Our Roesch Price includes manufacturer incentives: $1,750 - 2019 Retail Consumer Cash 51CK1. Exp. 07/01/2019

VIN: 1C4RJFAG9KC565027 Stock #: 16464

Our Roesch Price includes manufacturer incentives: $1,750 - 2019 Retail Consumer Cash 51CK1. Exp. 07/01/2019 ...

[ more ]

Our Roesch Price includes manufacturer incentives: $1,750 - 2019 Retail Consumer Cash 51CK1. Exp. 07/01/2019

VIN: 1C4RJFAG5KC601375 Stock #: 16726

Our Roesch Price includes manufacturer incentives: $1,750 - 2019 Retail Consumer Cash 51CK1. Exp. 07/01/2019 ...

[ more ]

Our Roesch Price includes manufacturer incentives: $1,750 - 2019 Retail Consumer Cash 51CK1. Exp. 07/01/2019

VIN: 1C4RJFBG8KC689532 Stock #: 16862

Our Roesch Price includes manufacturer incentives: $500 - MidWest 2019 Bonus Cash MWCKA. Exp. 07/01/2019, $750 - Midwest BC Regional Bonus Cash MWCK ...

[ more ]

Our Roesch Price includes manufacturer incentives: $500 - MidWest 2019 Bonus Cash MWCKA. Exp. 07/01/2019, $750 - Midwest BC Regional Bonus Cash MWCKP. Exp. 07/01/2019, $1,750 - 2019 Retail Consumer Cash 51CK1. Exp. 07/01/2019

VIN: 1C4RJFBGXKC687426 Stock #: 17011

Our Roesch Price includes manufacturer incentives: $500 - MidWest 2019 Bonus Cash MWCKA. Exp. 07/01/2019, $750 - Midwest BC Regional Bonus Cash MWCK ...

[ more ]

Our Roesch Price includes manufacturer incentives: $500 - MidWest 2019 Bonus Cash MWCKA. Exp. 07/01/2019, $750 - Midwest BC Regional Bonus Cash MWCKP. Exp. 07/01/2019, $1,750 - 2019 Retail Consumer Cash 51CK1. Exp. 07/01/2019

VIN: 1C4RJFAG9KC601377 Stock #: 16722

Our Roesch Price includes manufacturer incentives: $1,750 - 2019 Retail Consumer Cash 51CK1. Exp. 07/01/2019 ...

[ more ]

Our Roesch Price includes manufacturer incentives: $1,750 - 2019 Retail Consumer Cash 51CK1. Exp. 07/01/2019

VIN: 1C4RJFAG2KC601379 Stock #: 16780

Our Roesch Price includes manufacturer incentives: $1,750 - 2019 Retail Consumer Cash 51CK1. Exp. 07/01/2019 ...

[ more ]

Our Roesch Price includes manufacturer incentives: $1,750 - 2019 Retail Consumer Cash 51CK1. Exp. 07/01/2019

VIN: 1C4RJFAG7KC593103 Stock #: 16782

Our Roesch Price includes manufacturer incentives: $1,750 - 2019 Retail Consumer Cash 51CK1. Exp. 07/01/2019 ...

[ more ]

Our Roesch Price includes manufacturer incentives: $1,750 - 2019 Retail Consumer Cash 51CK1. Exp. 07/01/2019

VIN: 1C4RJFAG6KC538223 Stock #: 16472

Our Roesch Price includes manufacturer incentives: $1,750 - 2019 Retail Consumer Cash 51CK1. Exp. 07/01/2019 ...

[ more ]

Our Roesch Price includes manufacturer incentives: $1,750 - 2019 Retail Consumer Cash 51CK1. Exp. 07/01/2019

VIN: 1C4RJFAG1KC545340 Stock #: 16516

Our Roesch Price includes manufacturer incentives: $1,750 - 2019 Retail Consumer Cash 51CK1. Exp. 07/01/2019 ...

[ more ]

Our Roesch Price includes manufacturer incentives: $1,750 - 2019 Retail Consumer Cash 51CK1. Exp. 07/01/2019

VIN: 1C4RJFAG9KC593104 Stock #: 16729

Our Roesch Price includes manufacturer incentives: $1,750 - 2019 Retail Consumer Cash 51CK1. Exp. 07/01/2019 ...

[ more ]

Our Roesch Price includes manufacturer incentives: $1,750 - 2019 Retail Consumer Cash 51CK1. Exp. 07/01/2019

VIN: 1C4RJFAG7KC537503 Stock #: 16465

Our Roesch Price includes manufacturer incentives: $1,750 - 2019 Retail Consumer Cash 51CK1. Exp. 07/01/2019 ...

[ more ]

Our Roesch Price includes manufacturer incentives: $1,750 - 2019 Retail Consumer Cash 51CK1. Exp. 07/01/2019

VIN: 1C4RJFAG2KC695084 Stock #: 17050

Our Roesch Price includes manufacturer incentives: $1,750 - 2019 Retail Consumer Cash 51CK1. Exp. 07/01/2019 ...

[ more ]

Our Roesch Price includes manufacturer incentives: $1,750 - 2019 Retail Consumer Cash 51CK1. Exp. 07/01/2019

VIN: 1C4RJFAG5KC787385 Stock #: 17220

Our Roesch Price includes manufacturer incentives: $1,750 - 2019 Retail Consumer Cash 51CK1. Exp. 07/01/2019 ...

[ more ]