RAM Truck Comparison
What Are The Differences Between The Different Ram Trucks?
The differences between the different Ram trucks are highlighted mostly by what they have to offer for performance. What engine the Ram truck holds differs slightly through each model, as well as the towing capacity. There are noticeable differences between the Ram 1500, 2500, 3500, and the Ram 3500 Chassis Cab in how they run and what they are capable of accomplishing. Each Ram truck offers different performance abilities that will help you come to your final decision on which Ram truck better fits your needs at the end of the day. When choosing a Ram truck, there is a model that fits to help you achieve what you purchased your Ram truck for.
Ram 1500 Highlights
The Ram 1500 is a large truck that has a decent amount of power and ability to help you perform your necessary tasks. The payload capacity of the Ram 1500 is 1,920 pounds, and the towing capacity comes through with an impressive 10,710 pounds. With the performance capabilities of the Ram 1500, you can tow a small boat for a vacation, or a small trailer for moving. The Ram 1500 carries a 5.7L HEMI V8 engine with TorqueFlite, so there are no doubts about whether it can handle your day to day tasks.
5.7L HEMI V8 with TorqueFlite
395 Horsepower
1,920 lbs Payload Capacity
10,710 lbs Towing Capacity
Aerodynamic Frame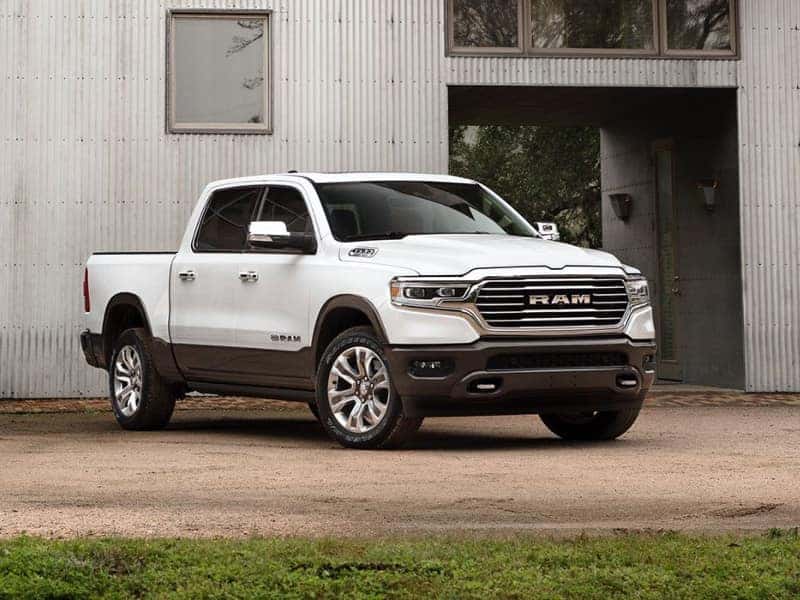 Ram 2500 Highlights
The Ram 2500 is slightly larger and more powerful than the Ram 1500. The Ram 2500 more than doubles the Ram 1500's payload capacity, and with a towing capacity of 19,780 pounds, it comes close to doubling it's capability there too. The Ram 2500 is carried by a powerful 6.4L Heavy- Duty V8 HEMI engine with MDS. Aside from those features, the Ram 2500 has a view others that stick out against the Ram 1500 that you can check out in the list below.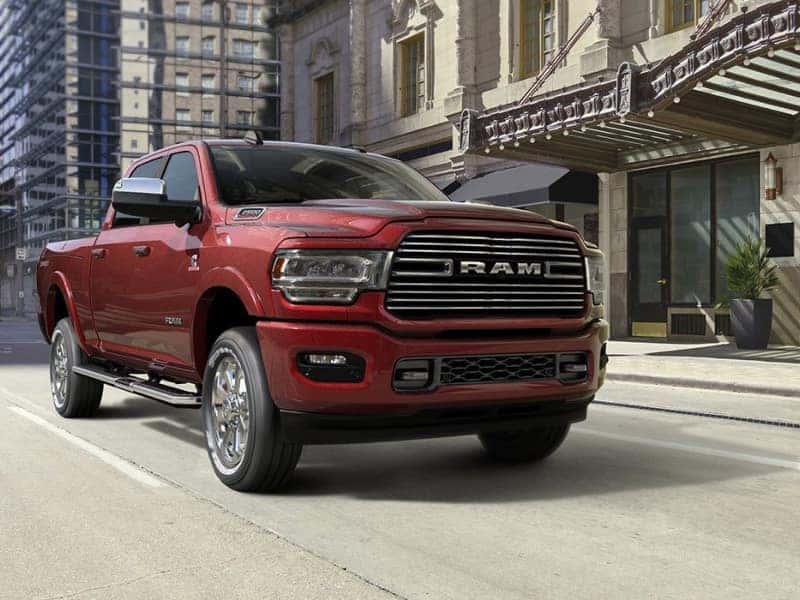 6.4L Heavy- Duty V8 HEMI with MDS
410 Horsepower
19,780 lbs Towing Capacity
4,050 lbs Payload Capacity
LED Headlights
Ram 3500 Highlights
A major difference between the Ram 3500 and the Ram 1500 and 2500 is that the engine is a 6.7L High Output Cummins Turbo. The towing capacity of the Ram 3500 doubles the towing capacity of the Ram 2500. With the Ram 3500 you can tow anything from a large trailer to a mobile home right behind you. The only performance feature the Ram 3500 and 2500 share is their horsepower. The Ram 3500 is a heavy duty truck that will perform to your expectations.
6.7L High Output Cummins Turbo
410 Horsepower
35,100 Towing Capacity
1,000 lb ft Torque
7,680 Payload Capacity
Ram Chassis Cab Highlights
The Ram Chassis Cab is a powerful Ram commercial truck that is built to adapt to what your life, or job asks of you. The Ram Chassis Cab has a towing capacity of an amazing 35,220 pounds and a whopping 43,000 pound max GCWR. The Ram Chassis Cab has a slightly smaller engine and horsepower than the rest of the Ram trucks, but makes up for it in it GCWR and versatility it offers. No matter the job, the Ram Chassis Cab rise to the occasion,
6.4 HEMI V8
401 Horsepower
800 lb ft of Diesel Torque
440- Amp Dual Alternator Output
35,220 lbs Towing Capacity
43,000 lbs Max GCWR
Which Ram Truck Best Fits Your Needs?
Choosing the Ram truck that best fits your needs come down to what you expect out of your truck. The Ram 1500 is a good fit for truck lovers that like the ability to be able to haul items for short trips. The Ram 2500 and 3500 are good choices for those you would like the ability to tow a mobile home on road trips. The Ram 3500 Chassis Cab is a good fit for jobs that require strength and versatility on jobs. Each Ram truck has its pros for certain individuals, and to choose the one that best fits your needs you need to look at what your life requires and then head out and test out your options.